About the Soirée
An event inspired by the music.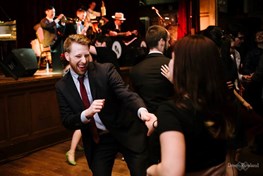 The sweet, sweet slow jazz. There's a whole range of music at slower tempos that is beautiful, dynamic, playful, sassy, and seriously underrated. We wanted to provide an inspiring weekend for both dancers who already love slow music and for dancers who might be nervous about what to do at slower tempos. With Michael Gamble & the Rhythm Serenaders on board, we hope you'll fall as much in love with the music as we are.
An event inclusive of different dance styles.
Our inspiration for Slow Dance Soiree was to provide a slow dance weekend specifically tailored for Lindy Hoppers, but this weekend will be inclusive of lots of different dance styles! Our teachers draw their inspiration not just from Lindy Hop, but from Blues, Balboa, Tango, and more. The classes at the event will focus on core movements and techniques that can help all aspects of dancing, and we're sure the music will keep dancers from all backgrounds moving. 
An event that highlights different competition skills.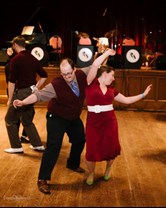 It's great to see fast swing outs and high-speed aerials, but with our strictly competition we want to see what you do that's slow, smooth, and sophisticated.
An event that is classy.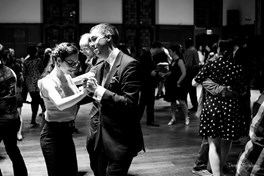 Slick hardwood floors, expansive cathedral ceilings, red carpeted foyer and balcony - the ballroom at Rochester's Historic German House sets the scene. Fill it with the sweet sounds of slow jazz, sustained movement on the dance floor, and well-dressed dancers from all over the globe, and we hope to create a classy, sophisticated, memorable experience for all those who attend.
An event that is about having fun and loving the dance.
Groove Juice Swing prides ourselves on throwing events that stay focused on inclusiveness, inspiration, quality music, and social dancing. If you've loved our other events or if you've never been to visit us in Rochester, come experience the warmth of our scene and share a laugh, a class, and a dance with us. 
Save the date, spread the word, and save us a slow dance at the soirée!