Classes & Levels
Six instructors. Three levels.
Dance with your peers in three levels of classes all weekend.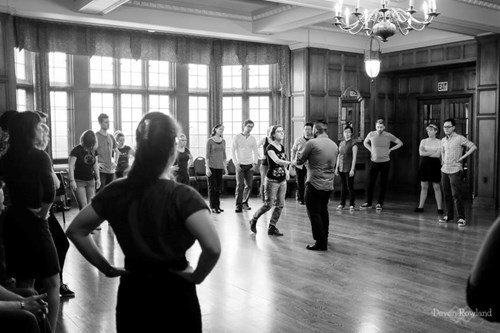 Here's what to expect:
Level  A:
For dancers who have some experience in blues or other dance forms or have only been dancing Lindy Hop for a short time. This track is also for dancers of all levels who aren't yet comfortable or who have spent minimal time slow dancing. Students in this track will focus on the basics of body awareness, connection, intention in leading/following, and moves work well at slow tempos. If you're brand new to partner dancing, please consider taking the free beginner slow dance lesson on Saturday directly preceding the evening dance.
Level B:
This level is for dancers who are intermediate Lindy Hop dancers who have spent some time dancing to slower tempos and are looking to refine their slow tempo skills. If you are not comfortable with your Lindy Hop fundamentals (swing-outs, circles, switching from 6- to 8-count) or have no slow dancing experience, please sign up for Level A. This level will focus on refining movement and enhancing creativity as well as sharpening connection, leading/following skills, and slow dancing moves. Depending on class sizes, audition may be required.
Level

 C:

This level is for advanced dancers with considerable experience who feel comfortable dancing at slow tempos and are looking to build their technique and expand on their repertoire. Dancers should expect to be challenged and will focus on connection, flow, momentum, and overall quality of movement, as well as more difficult moves and combinations. Audition required*. 

*Due to classroom size limitations not all dancers who select Level C may end up in this level.